What is TiVo MINI VOX?
Everything you do on the couch can now be taken to the bedroom – expand the 4K Ultra HD TiVo experience you love to any room in the house. With your compatible TiVo DVR and the included TiVo VOX Remote, you can use your voice to control TiVo on any of your additional TVs. Attach the TiVo Mini VOX for a Tru Multi Room™ solution without any added monthly fees – the best bargain in the business.
TiVo mini vox extends your TiVo DVR experience to additional TVs in your home(1) for an easy and economical whole-house 4K Ultra HD solution(2) (requires MoCa or Ethernet not compatible with Wi-Fi.)

With the innovative TiVo mini vox, use your voice to simultaneously search across live TV, your DVR recordings and streaming apps to more easily find and watch what you're looking for. (3)

Get the Full TiVo experience, including crystal-clear 4K Ultra HD content and cutting-edge control with skip mode and quick mode, on another TV in your house for no additional service fees! (4)

Your favorite streaming apps are fully Integrated no more switching inputs, remotes or devices access Netflix, video, Hulu, HBO go, Pandora and more through one Integrated experience. (5)

Access your TiVo DVR to schedule a OnePass or a WishList search
Installation
This device is using the Android OS which means you can use all apps that have been released for the Android OS.
These apps are available here with installation guide at:
-> How to install IPTV on Android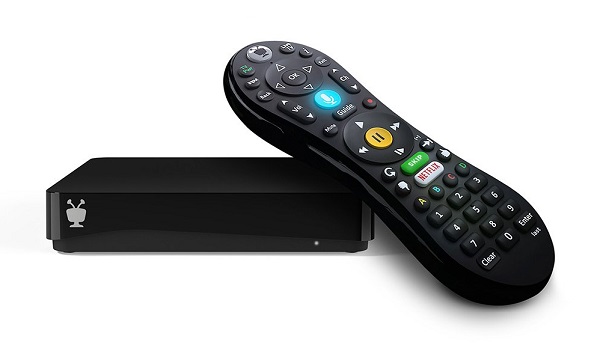 Expand your 4K Ultra HD experience!
Get a TiVo Mini VOX and, with your compatible TiVo DVR, you can bring the TiVo experience to any room in your house for a 4K Ultra HD whole-home DVR solution. When your main TiVo box is running the New Experience, the included TiVo VOX Remote brings voice control to Tru Multi-Room. And best of all, there are no added monthly fees – the best bargain in the business.
Don't feel like digging through endless pages of the Program Guide? Press and hold the Voice button and say, Show me what's on now. TiVo displays shows and movies you might like based on shows you've watched before.
Say, Create OnePass and the name of your favorite TV series into your TiVo VOX Remote and TiVo's OnePass feature tracks down every available season and episode — whether it is on television or a streaming app — and creates a customized watchlist for you.
Trying to find something specific but can't remember the name? Tell TiVo to Show me action movies, then dig further by saying, Just the ones with Bruce Willis. TiVo gets you to what you're looking for faster.
Official Pictures