What is VU+ SOLO 2?
Vu+ SOLO2 provides reliable and powerful hardware and software features which customers deserve. The vu+ team has developed this new SOLO2 with one clear mission: produce the compact HD PVR with versatility.
Ever since the Solo was out in the market in early 2010, Solo has become the most persistent and reliable HD zapper. The vu+ team has prepared to make a new leap forward in the development of SOLO2after taking into considerations of all the feedbacks and comments from its valued customers. Features of SOLO2 are upgraded and newly added. It is equipped with the DVB-S2 Twin-Tuner and 2.5″HDD support, increasing usability and efficiency.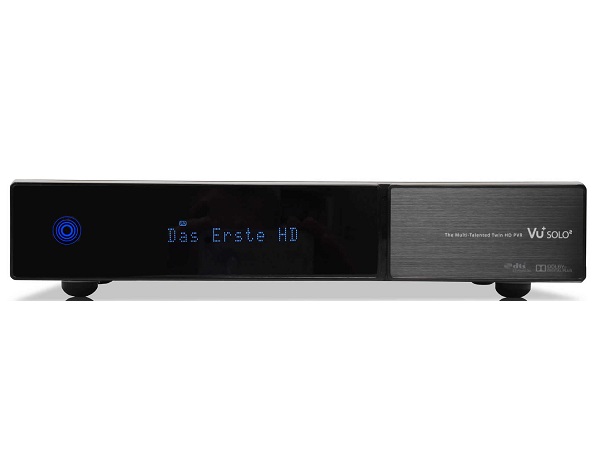 1300 MHz CPU BCM7356 dual core
256MB Flash / 1GB DDR3 DRAM
Option to fit Internal SATA HDD 2.5″
Dual Card readers
Front Display 12 digit VFD display
Gigabit Ethernet
HDMI 1.4
Dolby Digital Plus & DTS 2.0 supported
Dual MPEG2/H.264 Hardware Decoding (HD PiP possible)
On-the-fly transcoding of content into a variety of formats
In the process of evaluating any digital devices, speed is definitely of paramount prominence. CPU is the engine that drives all the processes and gives the boost. Vu+ SOLO2 2 is equipped with the powerful CPU with accelerated speed. This box connected to your TV will enable customers to run any functions that they want in a split second. Its system has more processing power with the ability to run more applications.
The vu+ team wants to make sure the customers around the world enjoy more with this faster engine in SOLO2. Examples include faster-booting speed, and faster channel change, faster loading of applications and plug-ins such as YouTube Player, Video Streaming, and Vu+ AirPlay.
Installation
Install IPTV via autoscript bouquet list on Enigma2