What is VU+ Ultimo 4k?
Since Vu+ announced the Ultimo4K at the Anga Cable and Satellite fair earlier this year, there has been a lot of hype and people expecting big things from this box, but none more than myself.
Well now it's here, so does it live up to the hype?
Let's take a look and find out.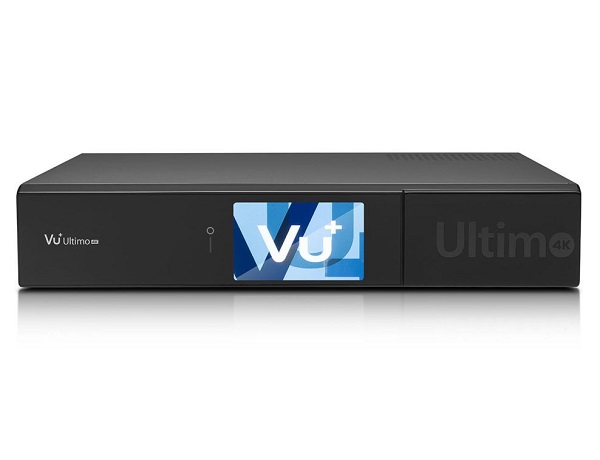 Installation
Install IPTV via autoscript bouquet list on Enigma2
Setup IPTV using XtreamTV plugin in Enigma 2
Hardware:
1.5GHz ARM Quad-Core 20,000 DMIPS ARM v7 Processor
4096 MB Flash (eMMC)
3072 MB DDR3 DRAM
Gigabit LAN (10/100/1000 MBit/s)
2x Advanced Pluggable FBC DVB-S2 or 1x FBC DVB-C Tuner + 1x DVB-S2
1x Advanced Pluggable Single or Dual Tuner (DVB-S2 or DVB-C/T/T2)
4" Front LCD screen / MiniTv
1x HDMI 2.0 out (with HDR support)
1x HDMI 2.0 in
Wlan: IEEE 802.11 b/g/n/ac 2,4 / 5 GHz integrated
Wake on Wireless LAN (WoL)
Bluetooth 4.0 integrated for e.g. Bluetooth soundbars or headphones
2x Common-Interface
2x Smartcard-Reader (Xcrypt)
1x USB 2.0 (Front)
2x USB 3.0 (Rear)
2x Audio out (RCA)
S/PDIF audio output optical (digital)
HD PIP (Picture in Picture)
Blindscan
DiSEqC 1.0/1.1/1.2, USALS
Internal 2.5"/3.5" HDD Support
External 12V power supply
Power Switch
Fanless Silent Operation
​
Software:
Advanced Linux Operating System
Media Player
Downloadable Plug-Ins supported
HbbTV
EPG supported
Unlimited channel lists for TV / Radio
Automatic & Manual Service Scan Supported
Multiple LNB control (DiSEqC) supported
OSD in many languages
Skin change supported
Appearance
The Ultimo4K is a big box, the dimensions are (W x D x H): 380 mm x 290 mm x 78 mm. The front panel is clean with only a touch power button, with white led glowing to the left of the 4.0" LCD display, and there is a USB 2.0 connection on the right-hand side along with 2 card slots and 2 CI slots all hidden behind the flap.
​